Here at Workstream, we constantly do our best to put ourselves in the shoes of our clients to understand their pain points, and then we build products to solve them.
Watch how Workstream tailors to the needs of customers - The Halal Guys, Cinnabon, and Curry Up Now
Over the past few months, we've received a lot of product feedback from customers... People want more convenience when it comes to posting jobs, shorter text-to-apply numbers, and better transparency between the brand and the applicants. So here's what we built!
1. Post a Job from your Phone
Being mobile focused is already the norm. In 2015 alone, Americans sent about 18 billion text messages everyday, with a 98% open rate. Bearing that in mind, Workstream's mobile app now allows you to not only manage your current hiring process, but also, publish new positions from your mobile. This way, even when hiring managers are covering frontline duties, they'll be able to conduct their hiring processes at the tip of their fingers.
Download Workstream app on both Android & iOS!
2. Use this Short Text-to-Apply Number
The text-to-apply feature was designed to increase the awareness of an available job position at your restaurant. This can come in the form of posters to be placed around your store, on your windows or even at drive-throughs! This will make it more convenient for job seekers in the area. For instance, while getting food at your store, potential applicants may just spot the text-to-apply poster and be able to take out phones out and start the application process.
Based on feedback from our clients, we've shortened the text-to-apply number to avoid any potential mistakes that come with texting to a long phone number. Applicants can now text a short 5-digit number (31063) to apply for a job!
3. Show Applicants Quiz Results
Our software allows you to include a list of screening questions to help filter for the candidates that are the most suited for your company even before the interview stage.
Several clients have raised the importance of maintaining transparency between the brand and the applicants, as well as the need to humanize the hiring process. To that end, we have developed a function that allows businesses to send an automated text message to reject applicants along with the reasons of why they were being rejected. This allows businesses to let their applicants know upfront the kind of employees they are looking for.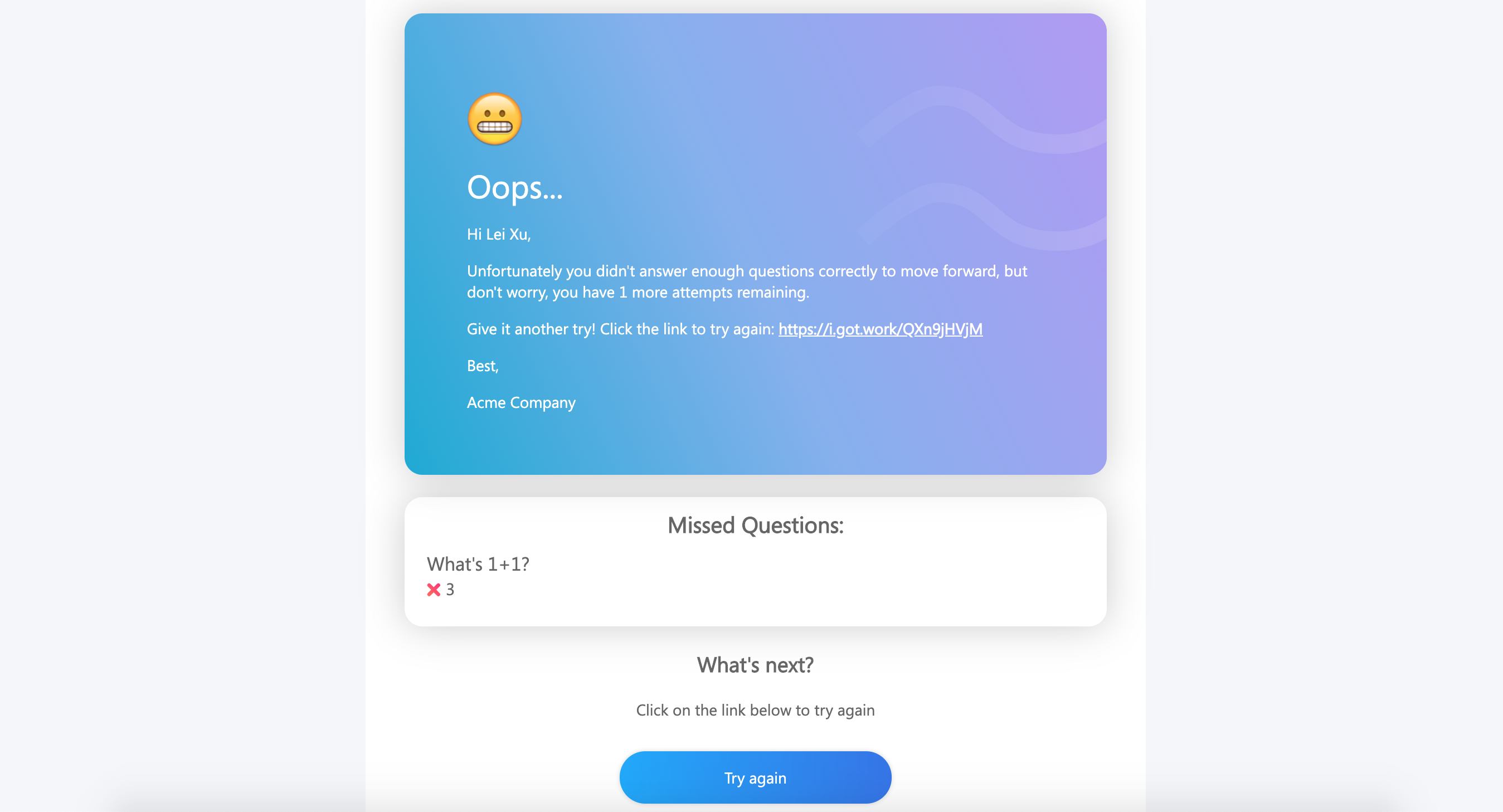 Not on Workstream yet? Schedule a chat with us!
Lei Xu is Workstream's co-founder and CPO. He loves coffee, travelling, exploring, a good beer, and a good conversation. Lei is inspired by great builders of our generation - Elon, Steve & Steve, Larry & Sergey. Passionate about technology, education, and the future.